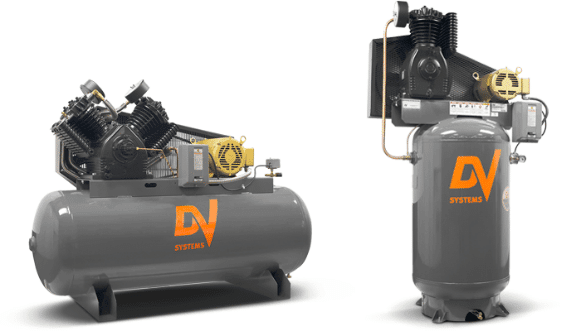 The Air-Cooled, Pressure-Lubricated, Reciprocating Heavy Duty Industrial Series is Engineered to Provide a Heavy-Duty, Durable and Dependable Air Compressor Built to Withstand the Most Demanding Industrial Environments.
Available in both Simplex & Duplex Configurations, The HDI Series 5HP to 30HP is equipped with 2-Stage, 2-Cylinder (247) or 4-Cylinder (447) Cast-Iron Compressor Pumps Powered By High-Efficiency North American Made Open Drip Proof (ODP) Motors, Providing Reliable, High Duty-Cycle Operation.
The Heavily Weighted Cast Iron Pumps and Low RPM enhance heat dissipation and enable up to a 75-80% duty cycle. DV's proprietary pressure lubrication process ensures oil is delivered to journal bearings and all necessary components, minimizing oil carry-over and friction.
The moving components of these pumps are machined, honed, balanced and assembled in Canada. Rugged construction and long life allows DV Systems to confidently offer an unprecedented 7 Year Warranty for the HDI Series.
Highlights
Rugged & Reliable
Ideal for Demanding Industrial Environments
Heavily-Weighted, Cast-Iron Pumps
Provides 75-80% Duty-Cycle Operation
Slow Compressor Pump RPM
Long-Lasting Operation
Deep-Finned Cast-Iron Intercooler
Enhances Heat Dissipation
7 Year Limited Warranty
Rugged Construction & Long Life
Performance
Power 5 – 30 HP
Delivery 19.8 – 99.9 SCFM at 145 psi
Technology Centrifugal Force Pressure Lubrication
Compressor Pump Data
Type 247 & 447
Cylinder 2/4
Stage 2
RPM 635 – 845
Electrical
Motor ODP (Open Drip Proof)
Single Phase 230V/23-85.5A, 60Hz
Three Phase 200V/15.4-71.2A, 230V/13.2-71.2A, 460V/6.6-35.6A, 575V/5.3-30A, 60Hz
Available Models – Tank Mounted – Simplex
| HP | Model | Air Receiver | Pump | SCFM @ 150 PSI |
| --- | --- | --- | --- | --- |
| 5 | TAP-5052 | 80 Horizontal | 247 | 19.1 SCFM @ 150 PSI |
| 5 | TAPV-5052 | 80 Vertical | 247 | 19.1 SCFM @ 150 PSI |
| 7 1/2 | TAS-5052 | 80 Horizontal | 247 | 25.8 SCFM @ 150 PSI |
| 7 1/2 | TASV-5052 | 80 Vertical | 247 | 25.8 SCFM @ 150 PSI |
| 10 | VAT-5063 | 120 Horizontal | 447 | 36.5 SCFM @ 150 PSI |
| 10 | VATV-5063 | 120 Horizontal | 447 | 36.5 SCFM @ 150 PSI |
| 15 | VAV-5062 | 120 Horizontal | 447 | 51.8 SCFM @ 150 PSI |
| 15 | VAVV-5062 | 120 Vertical | 447 | 51.8 SCFM @ 150 PSI |
| 25 | VAX-5081 | 240 Horizontal | 2 x 447 | 86.6 SCFM @ 150 PSI |
| 30 | VAY-5081 | 240 Horizontal | 2 x 447 | 99.3 SCFM @ 150 PSI |
Available Models – Tank Mounted – Duplex
| HP | Model | Air Receiver | Pump | SCFM @ 150 PSI |
| --- | --- | --- | --- | --- |
| 5 | TAP-5562 | 120 Horizontal | 2 x 247 | 2 x 19.1 SCFM @ 150 PSI |
| 7 1/2 | TAS-5562 | 120 Horizontal | 2 x 247 | 2 x 25.8 SCFM @ 150 PSI |
| 10 | VAT-5562 | 240 Horizontal | 2 x 447 | 2 x 36.5 SCFM @ 150 PSI |
| 15 | VAV-5582 | 240 Horizontal | 2 x 447 | 2 x 51.8 SCFM @ 150 PSI |
Available Models – Base Mounted – Simplex
| HP | Model | Air Receiver | Pump | SCFM @ 150 PSI |
| --- | --- | --- | --- | --- |
| 5 | TAP-5002 | N/A | 247 | 19.1 SCFM @ 150 PSI |
| 7 1/2 | TAS-5002 | N/A | 247 | 25.8 SCFM @ 150 PSI |
| 10 | VAT-5003 | N/A | 447 | 36.5 SCFM @ 150 PSI |
| 10 | VATV-5003 | N/A | 447 | 36.5 SCFM @ 150 PSI |
| 15 | VAV-5002 | N/A | 447 | 51.8 SCFM @ 150 PSI |
| 25 | VAX-5001 | N/A | 2 x 447 | 86.6 SCFM @ 150 PSI |
| 30 | VAY-5001 | N/A | 2 x 447 | 99.3 SCFM @ 150 PSI |