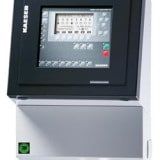 For sequencing and monitoring up to 16 compressors
Sigma Air Manager (SAM) combines Kaeser's decades of compressed air expertise with the latest industrial control technology. More than just a simple sequencer that balances load hours or cascade controller, this air system controller provides a variety of tools to manage your air system in real time.
SAM's adaptive 3-D-control detects switching losses(starts/stops), control losses (idling and FC losses) andpressure flexibility (average increase over required pressure), optimizes the ratios between these determining factors and minimizes the associated energy requirements. The average pressure is reduced and while pressure stability increases for maximum energy savings.
If desired, SAM can be easily connected to via modem interface to one of Kaeser's authorized service centers via SMS or a standard telephone line. This feature further enhances system reliability and decreases customer maintenance costs.
Using powerful industrial PC-based technology, SAM is an all-in-one master control system with an integral web server. This versatile system not only ensures energy-saving control, but also provides unrivalled transparency relating to key data such as operational status, energy consumption and compressed air system costs.
SAM automatically ensures optimum energy consumption. Users benefit from outstanding energy efficiency and user-friendly operation – simply enter the required pressure and compressor performance data – the rest is done for you