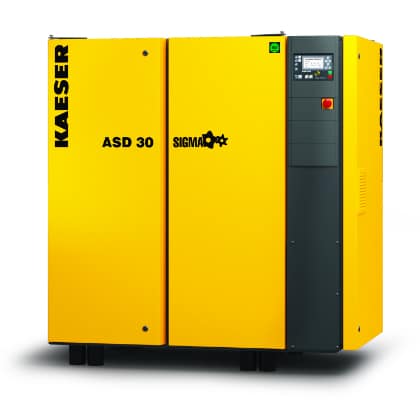 The ASD T to DSD T series
The ASD, BSD, CSD and DSD T series compressors are reliable and efficient. The integral refrigerated dryer provides high quality compressed air from one compact package. The air compressor and refrigeration dryer are housed in separate, modular cabinets for easy access to all maintenance points.
Ready for operation
The refrigerated dryer module is attached to and receives its power from the main compressor cabinet – providing easy, single point hook-up. All units are piped and wired, and ready to go. The individual cabinets help prevents the heat of compression from affecting dryer performanc
Models
Specifications
Horsepower: 25 to 175 hp
Capacities: 72 to 858 cfm
Standard pressures: 80 to 217 psig
The energy-saving Sigma Profile airend
Single-stage, flooded rotary screw airends deliver pressures up to 217 psig and feature the power-saving Sigma profile design. Airends are precision-machined and optimized in size and profile to mtach the airend speeds with their best specific performance. Unlike the competition, Kaeser Compressors makes many different airends so that we can apply them at their optimal speed and performance.
Moisture separator with Eco-Drain
A highly efficient moisture separator with electronic Eco-Drain safely and reliably removes all liquid condensate generated by the aftercooler. This function is constantly monitored by the Sigma Control system.
Refrigerated dryer with Eco-Drain
The integral refrigerated dryer is also fitted with an electronic Eco-Drain. This "no-loss" drain removes condensate without releasing valuable compressed air. Kaeser's dryer/drain combination ensures optimum performance and increased energy savings.
Integrated design
Power for the integral refrigerated dryer is provided through the main cabinet. This compact compressor / dryer package is completely piped, wired and ready for installation. All components are easily accessible to simplify maintenance.
Sigma Control 2
Sigma Control 2 is our most advanced unit controller, combining safe and efficient internal supervision of the machine with important information and maintenance-friendly features. The operator interface offers easy access to all settings and information. This controller provides a broad range of capabilities and at the same time is simple and reliable.