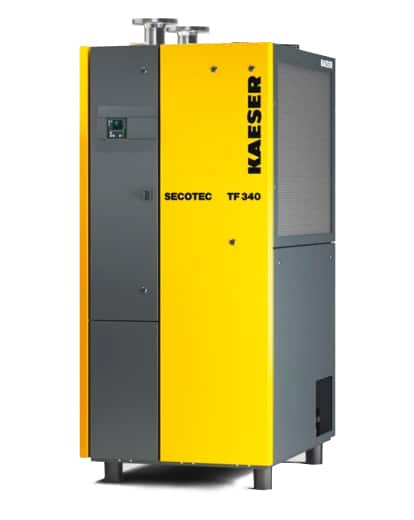 These energy-saving refrigeration dryers provide a minimum pressure dew point of 38°F. The Secotec TF series includes Sigma Control Smart controller as well as the SecoPack LS system.
SecoPack LS: Superior Compressed Air Drying
The new generation of Secotec TF refrigeration dryers is equipped with the innovative SecoPack LS heat exchanger system. The special latent heat storage medium has up to a 98% higher thermal storage density than similar dryers currently available, which means that these new dryers provide the same thermal storage capacity in a far more compact design. Secotec TF dryers have more stable dew points and better internal air flow which results in minimal pressure loss of less than 2.2 psi.
Minimal pressure drop
Secotec series dryers ensure minimal pressure drop thereby saving additional energy, as the required maximum pressure is reduced.
Intuitive operation: Sigma Control Smart
Secotec TF dryers feature the Sigma Control Smart electronic controller, which provides at-a-glance status information as well as maintenance information, service diagnostics and connectivity to supervisory system controls. A large color display and language-neutral menu navigation make it exceptionally user-friendly.
Maximum reliability
Secotec TF dryers use R 134a refrigerant which allows efficient and dependable compressed drying performance in ambient temperatures up to +113 °F (+122 °F optional). Generously sized condensate separators and Eco-Drain electronic condensate traps ensure reliable moisture removal. For long-term durability, the condenser and SecoPack LS system are made from aluminum and the compressed air piping is fabricated from stainless steel. Secotec refrigerated dryers feature a high quality control cabinet with electrical equipment conforming to standard EN 60204-1.
No pre-filter
Secotec energy-saving dryers do not require a pre-filter. This translates into significantly lower investment and maintenance costs, as well as a lower pressure differential.
Specifications
TF series
Air flow rate: 520 to 1060 cfm at 100 psig