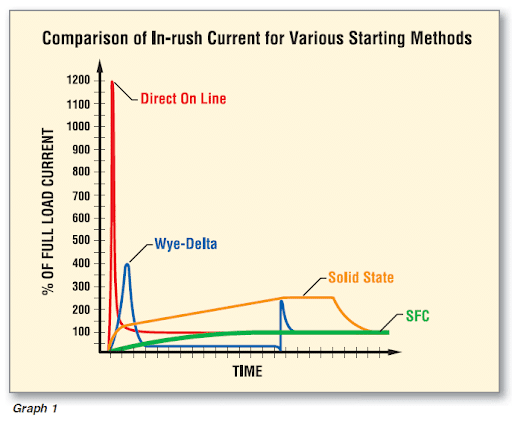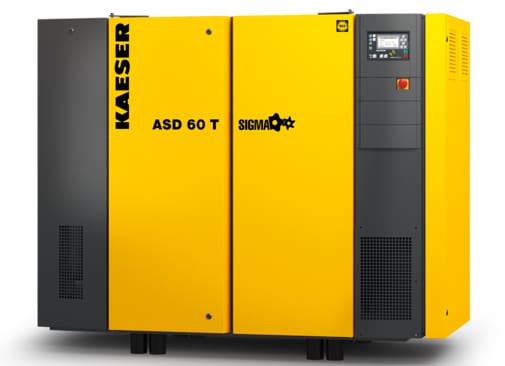 Kaeser's Sigma Frequency Control (SFC) compressors combine our Sigma Profile airends and revolutionary Sigma Control system with the latest in variable speed drive technology. Kaeser uses large, optimized airends turning at slower speeds for more efficient performance across the entire speed range.
Soft starts
SFC units go from zero to full load without current spikes or excess heat rise. This allows unlimited motor starts, and since the SFC drive yields a "near unity power factor," power factor penalties are also eliminated.
Specifications
Horsepower: 25-450 hp
Capacities: 72-2015 cfm
Standard pressures 80-217 psig
Precise pressure control
SFC compressors precisely control system pressure to ±2 psig using highly accurate sensors and the Sigma Control System to control motor speed. This eliminates "overpressurizing" and increases energy savings – after all every 2 psig saved in overpressurizing reduces power consumption by 1%!
Superior frequency drive system technology
SFC drive systems feature electromagnetic interface (EMI) filters, contactors for galvanic separation and line reactors for superior protection. Drive cabinet cooling fans maintain proper operating temperatures even under extreme ambient conditions.
EMI filter
SFC drive systems are designed with an electromagnetic interference filter that eliminates or isolates all feedback, and prevents harmonic distortion from entering the plant's electrical grid.
| No | Model | Rated Motor Power | Min. Capacity at 460V, 110 psig | Max. Capacity at 460V, 110 psig |
| --- | --- | --- | --- | --- |
| 1 | SFC 8 / 8T | 10 hp | 13 cfm | 48 cfm |
| 2 | SFC 11 /11T | 15 hp | 22 cfm | 76 cfm |
| 3 | SFC 15 / 15T | 20 hp | 29 cfm | 102 cfm |
| 4 | SFC 18S /18ST | 25 hp | 33 cfm | 127 cfm |
| 5 | SFC 22S / 22ST | 30 hp | 33 cfm | 149 cfm |
| 6 | SFC 22 / 22T | 30 hp | 36 cfm | 166 cfm |
| 7 | SFC 30S / 30ST | 40 hp | 37 cfm | 182 cfm |
| 8 | SFC 30 / 30T | 40 hp | 46 cfm | 213 cfm |
| 9 | SFC 37 / 37T | 50 hp | 54 cfm | 254 cfm |
| 10 | SFC 45S / 45ST | 60 hp | 69 cfm | 288 cfm |
| 11 | SFC 45 / 45T | 60 hp | 69 cfm | 310 cfm |
| 12 | SFC 55 / 55T | 75 hp | 77 cfm | 374 cfm |
| 13 | SFC 75S / 75ST | 100 hp | 100 cfm | 463 cfm |
| 14 | SFC 90S / 90ST | 100 hp | 120 cfm | 509 cfm |
| 15 | SFC 110S / 110ST | 125 hp | 136 cfm | 618 cfm |
| 16 | SFC 75 / 75T | 100 hp | 127 cfm | 559 cfm |
| 17 | SFC 90 / 90T | 125 hp | 127 cfm | 627 cfm |
| 18 | SFC 110 / 110T | 150 hp | 150 cfm | 735 cfm |
| 19 | SFC 132S / 132ST | 175 hp | 209 cfm | 830 cfm |
| 20 | SFC 132 | 200 hp | 209 cfm | 919 cfm |
| 21 | SFC 160 | 250 hp | 230 cfm | 1074 cfm |
| 22 | SFC 200 | 270 hp | 303 cfm | 1305 cfm |
| 23 | SFC 250 | 340 hp | 358 cfm | 1466 cfm |
| 24 | SFC 315 | 450 hp | 470 cfm | 2091 cfm |
| 25 | SFC 515 | 590 hp | 413 cfm | 2624 cfm |
| 26 | SFC 515 | 700 hp | 417 cfm | 3037 cfm |