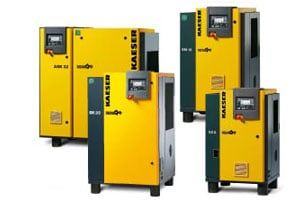 Kaeser's line of small rotary screw air compressors is suitable for machine shops, auto repair and collision work, and anyone needing an efficient and reliable compressed air system.
Versatile V-belt drive
Kaeser screw compressors with V-belt drive are economical, efficient, and reliable. The automatic tensioning device ensures excellent transmission efficiency over the life of the unit and reduces maintenance costs. Screw compressors with V-belt drive are especially flexible if an increase in working pressure becomes necessary.
Models
SX to AS Series
Horsepower: 3 to 30 hp
Capacities: 8.8 to 141 cfm
Standard pressures: 80 to 217 psig
| # | Model | Rated Motor Power | Flow Capacity at 125 psig |
| --- | --- | --- | --- |
| 1 | SX 3 / SX 4 / SX 5 / SX 7.5 | 3 hp to 7.5 hp | 12 cfm to 28 cfm |
| 2 | SM 7.5 / SM 10 / SM 15 | 7.5 hp to 15 hp | 32 cfm to 53 cfm |
| 3 | SK 15 / SK 20 | 15 hp to 20 hp | 32 cfm to 53 cfm |
| 4 | AS 20 / AS 25 / AS 30 | 20 hp to 30 hp | 99 cfm to 141 cfm |